Jerry McLaughlin Receives Prestigious Award for Paw Paw Research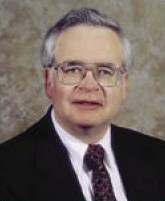 Dr. Jerry McLaughlin has been selected to receive the Varro Tyler Prize for Research on Botanicals by the American Society of Pharmacognosy. He will be awarded this prize at their annual meeting in Portland, Maine in July 2007.
Dr. Roy Okuda, president of the ASP, stated that Dr. McLaughlin was selected based on his "long career and many contributions to the field of pharmacognosy." Dr. McLaughlin has spent over 30 years researching the paw paw tree and discovered its beneficial effects for use in those with rapidly replicating cells.
His acclaimed research was the driving force behind the paw paw product commercially available.
The Tyler Prize is awarded every two years and includes a $5,000 honorarium plus travel expenses to the meeting. "I'm pleased to receive this award," Jerry said. "The people who have previously received it were great pioneers, so I feel like I'm in good company."
Dr. McLaughlin feels that he was selected because of his persistence in researching and developing the paw paw tree into a marketable product. Due to his research, paw paw is also used in a parasite cleanse marketed by a leading supplement company.
Dr. McLaughlin's creativity and innovation also led him to develop a simple biological assay for the standardization of capsules. He tested the potency of paw paw capsules on brine shrimp. His testing methods are used around the world now.
Perhaps one of Dr. McLaughlin's greatest sources of joy is his influence on his students. He has mentored 23 Ph.D.s and 10 Masters of Science students in Pharmacognosy who are working and doing well. Dr. McLaughlin received his bachelor's degree in Pharmacy, his master's degree in Pharmacognosy and his Ph.D. in Pharmacognosy all from the University of Michigan. He served as a professor of Pharmacognosy at Purdue University from 1971 to 1999, when he joined Nature's Sunshine Products as Vice President over Research, Development, and Quality Assurance as well as Chief Scientific Officer. He retired from Nature's Sunshine in December, 2003.
Dr. McLaughlin has received numerous honors and awards throughout his illustrious career. He has published more than 330 scientific papers, and his work is protected by several patents.
Dr. McLaughlin and his wife Elzbieta currently reside in West Lafayette, Indiana, with vacation residences in Florida and Alaska.